A Young Musician Follows His Dreams
This weeks contribution from my sis Nancy…..
The Friday assembly at Rippowam Cisqua School was a full circle moment in our family. Alum and singer song-writer Collin McLoughlin returned to the place where he fist got up on a stage to sing. I can remember his role as "Tartan" the male lead in the school musical 14 years ago.
In those days, Collin was a frail fifth-grader, wearing a furry caveman costume which barely covered his scrawny shoulders. He belted out the songs with a high-pitched quaver and it was a lightning bolt moment for us as parents. His dad and I had never heard him sing before.
That was just the beginning. Collin addressed the Rippowam audience with a motivational speech about following dreams, a timely topic, since the bonus track on his newly released EP is called "Chasing Dreams." The day the new album (entitled "Stark Perspective") was released on iTunes, it was the second most downloaded in the singer songwriter category on the world charts.
Mr. Fonera, Collin's former Rippowam music teacher, was the first to put a guitar in his hands as part of the music program. He attended the Friday assembly and seemed to enjoy what must have been a satisfying "teacher moment."
Collin briefly outlined his personal "post-Ripp" journey, which took him through Wooster Academy, and then on to Colgate University. Although a philosophy major, he explained how writing and singing music enabled him to enter and win contests while at college.
"We started out doing 'crunk' rock," he told the kids. "It is distorted guitar and crazy heavy drums with rap singers and choruses, which are what I wrote and sang."
After a generous donor created a state of the are recording and broadcast facility at the college, members of his band, who were not considered part of the music department, gained access to the premises under cover of darkness when a sympathetic janitor, who was also a fan, let the group in to record and write music off hours.
Eventually, Collin was granted permission by the administration to use the new space and launched Broad Street Records, a Colgate-student run record label still in existence today. The label promotes and encourages all Colgate musicians to record and produce their own music, some of which was then broadcast on the college radio station and website.
"I wanted everyone to have a chance to be heard even if they weren't officially going into music as a career," said Collin, who found he loved managing the label.
The college asked for permission to utilize some of Collins original acoustic soundtracks for use on their website as background.
Winning student votes in a school competition earned their Colgate group, entitled, Nautical Young opening slots for popular artists on tour like Lupe Fiasco, Wale, and K'naan. When the group graduated, its members scattered to follow new career paths.
Collin launched a solo career, opening for and collaborating with popular artist on tour like Sam Adams, and spending the first summer playing shows in club settings like The Bitter End in New York City and Cafe Lina in Saratoga Springs.
Collin addressed the Rippowam students and spoke about finding a passion in life. He advised them to "try everything" saying that a school like Rippowam teaches students to place and equal value on arts and athletics.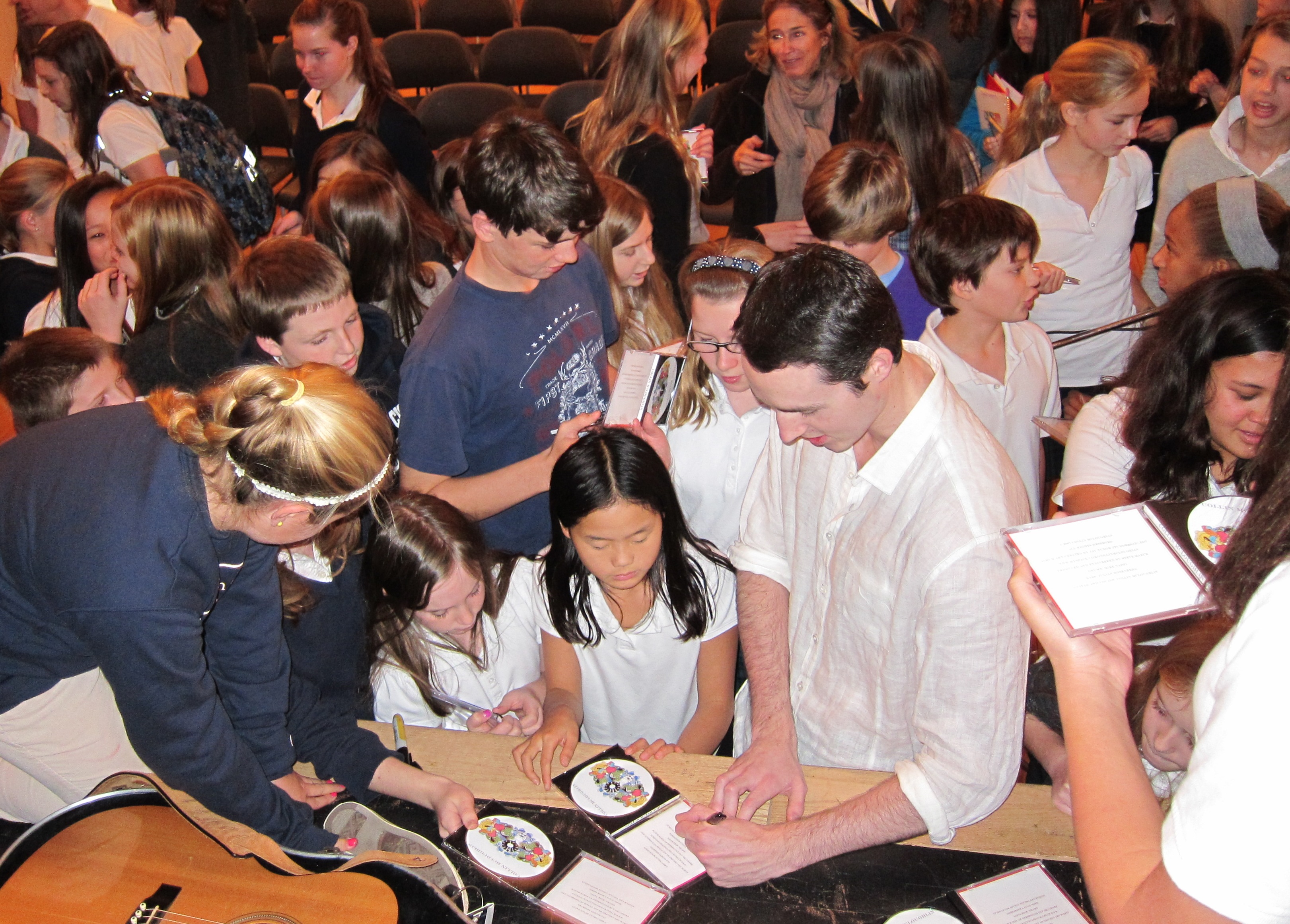 Collin described how his very first guitar lesson, still a mandatory part of the Rippowam seventh grade music curriculum, was less than inspiring. "Why didn't you like it?" came the questions from Mr. Perry, Collin's former science teacher. "Learning the basic building blocks of guitar chords means you have to start with very simple songs. To get to the next level, you have to stick with it and practice." He added, " I was impatient. You can only play so much row row your boat before you just want to upgrade to something from the radio."
The six foot two musician stood with an acoustic guitar strung over his shoulders and said, "Its Friday and I remember what that means around here. How are you all doing?" In and effort to elict more volume from the audience he grinned saying, "You can do way better than that, lets hear more." And the students complied, hooting, clapping and shrieking.
Playing concerts in venues that include boarding schools and colleges, his bookings take him as far away as California, and have helped to amp up them demand for his new music. In the past he has written dance tracks and acoustic, electronic ballads, many of which he has sold to record labels like Ultra.
Collin closed the show by playing a sneak preview on a big screen of his cover video "Not Over You," which has since been released.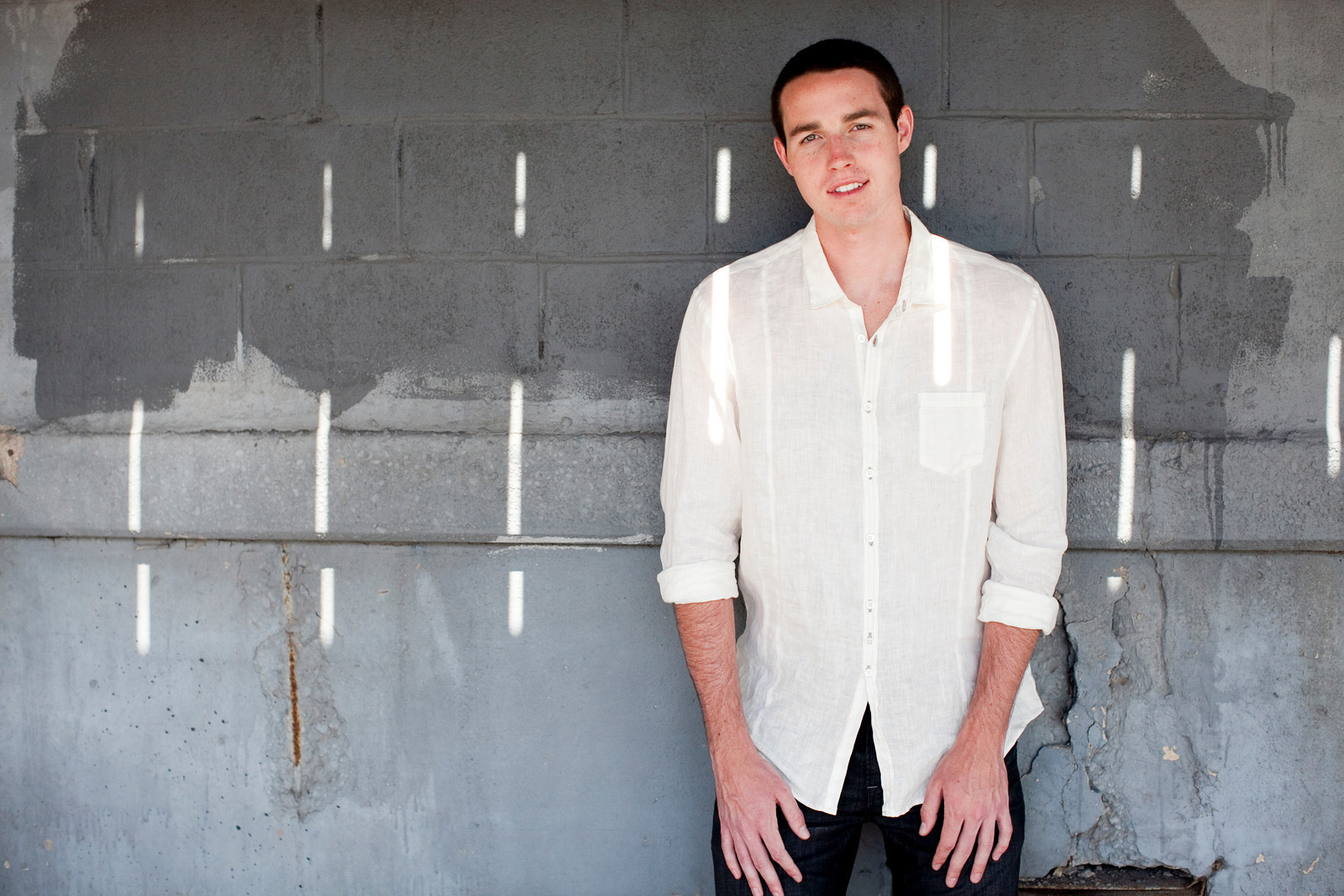 Each student left with a copy of the very first CD of songs Collin recorded, containing music produced when he was just a few years older than the Rippowam audience. It was Collin's way of sharing an earlier piece of himself and restating his message, "It is never too early to start following your own dreams."
Guest Blog by Nancy McLoughlin
So proud of my nephew! Vote for him in the Billboard Battle of The Bands! (Click below for the scoop..) Lee
http://www.billboard.com/features/northeast-battle-of-the-bands-2012-1006354752.story#/features/northeast-battle-of-the-bands-2012-1006354752.story