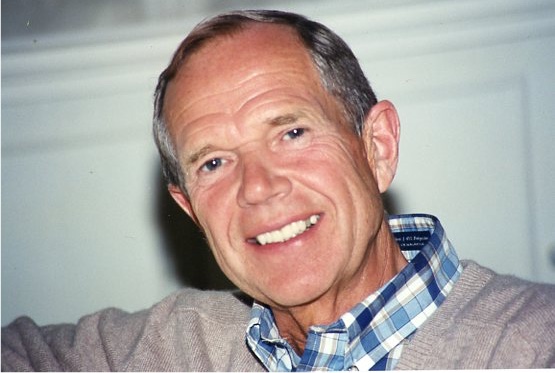 TRIBUTE TO MY DAD
For those of you who never met my Dad, or who knew him only in the last few years when Alzheimer's had a vice grip on his life, I wanted to share a little something of David F. McConaughy.
He was the last generation of an industrial era, working his way up one company ladder for his entire career.  He graduated from the Philadelphia Institute of Textiles in 1954 with a degree in textile engineering and retired from Albany International, as a Corporate VP, running several divisions.
One of three boys, he sired three daughters without ever letting us believe there were limits to what we could do.  If he yearned for a son, we never felt it.
One of his sayings was, "if you are going to do something, do it right." He loved the term "elbow grease."
He was a sweet tooth, with a fondness for Frosted Flakes, vanilla ice cream and tollhouse cookies. He also loved raw onions and goose liver, much to our horror.
He was the consummate relationship builder, compromise-finder and connector, with a warm, ready smile and a genuine interest in people. He taught us to "look everyone in the eye and give them a firm handshake."
An engineer and tinkerer by nature, he held a number of patents. He hand-made wooden marionettes and refinished furniture, created intricate drawings and had beautiful hand-writing.  In his earlier years, he could often be found under a naked bulb in his basement workshop, no doubt seeking respite from the four women in the house.
Neither a reader nor an intellectual, he was a do-er and a people person.  Boats, cars, anything that had a motor, he loved to be in motion.  He once took apart a Model-T and put it back together.  Old photos confirm he had a penchant for plaid swim trunks.
He came from a non-material generation, one that witnessed both economic feast and famine. Growing up in a household where money was tight and hand-me-downs were essential, he learned to appreciate finer things.  When he found a pair of shoes he liked, he bought two.  Just in case.
When the boy I liked turned me down for the Sadie Hawkins dance, he restored my confidence by writing out a "true prediction" that we both signed and tucked in his top dresser drawer.  "I hereby swear that some day I'll be beating the boys back from our door with a stick," it read.
He had a thing for carved birds, told animated ghost stories, collected antiques and found pleasure in polishing brass items.  An avid gardener, he cultivated pots of red geraniums and purple lobelia.  He made liberal use of Miracle Gro and weed killer, despite our Earth Day lectures.
I vividly recall his determination one summer, as he changed out of his suit and climbed elaborately rigged ladders and scaffolding to sand our entire house down to raw wood before repainting it. If you wanted a job done right…
Like everyone's Dad in the 70's, he got a little cheesy with wide striped ties, longish side burns and some polyester attire.  He loved music; anything by Sinatra, Andy William's "Moon River," Nancy Wilson, Dionne Warwick.  He knew the way to San Jose and he dug the Wichita Lineman.  Throughout his entire life, almost to the end, he could be found whistling a tune.
His favorite place in the world was out on the lake in his wooden Lyman boat.
When his nine grandchildren were younger, there was always someone on a lap, in his arms, in the boat or being tickled by his "dinosaur hand." In the summer he liked to take everyone out for ice cream.
I never heard him swear beyond the rare word "damn," and that was reserved for the unexpected injury or great inconvenience.  Every night before dinner he read the evening edition of the Albany Times Union and drank Beefeater's gin on the rocks with three olives.
A child of the depression and a thrifty Scottsman, he made us pony up each month for our monthly long distance calls, calculated down to the penny.
He was generous with his time and his charitable donations, serving on various boards. He was a trustee of Silver Bay Association for 35 years and was instrumental in raising money to save a five-mile stretch of land across the lake to donate back to the Adirondack Park's "Forever Wild."
When I told him I was marrying Bob and moving to China, he enthusiastically gave us his blessing (despite the fact Bob forgot to ask for my hand).  When we announced that Bob was leaving his law firm to try his hand as a starving journalist, he told him to follow his passion.  If I had been braced for concerns, I got only support, love and encouragement from my father at every pivotal juncture of my life.
If a family is like a ship, Mom was the rudder and the ballast.  My father was the mast and prow.  He loved his wife.  He loved his girls and our children.  He was gracious, never cruel; always a gentleman.  He taught us to treat the waitress with as much deference as the CEO.   Although we lost the essence of him in the slow erasure from a horrible disease, now that he is no longer in it, the world suddenly feels smaller and the sky appears less blue.